If you are considering a basement renovation, finding a trustworthy contractor is something that has probably crossed your mind. How can you filter out the good contractors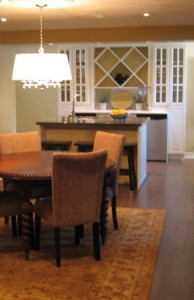 from the "not so good" ones? If you in desperate need of a good basement remodeler, slow down and make your choice with education. The following article will provide you with some sound advice before selecting a home renovator for your needs.
Be on the Lookout
Before getting quotes on your new basement remodeling project there are a few points I want to make you can improve your ability to find a reputable renovator
1)      Bonded and Insured– Companies that perform home renovations are required by law to be insured and bonded. A small number of companies operate without these required documents. One of the first questions to ask is "Are you bonded and insured"
2)      Reputation– Each renovator you interview should be able to provide references and testimonials from existing clients. Ask for references and follow up with them.
3)      Financing– Some renovators offer financing. You may or may not require financing but if you do ask each renovator you interview what they can do for you.
4)      Workmanship Guarantee– Material used by renovators is often backed with a warrantee. If the material is installed according to manufacturer's specifications the renovator will also offer a warrantee on the installation.
5)      Dust and Dirt– Renovation projects are almost always dirty and dusty. How does your renovator handle, drywall dust, garbage and non-biodegradable materials, etc?
6)      Who's the boss– When it is a team performing the renovation you'll want to find out who is in charge. If there is something you are not happy with as the project gets underway you'll want to discuss it with the boss.
7)      Free Advice– Expert basement finishers are willing to give you free advice on building that basement bar, wall positions, bathroom construction, lighting, ducts and pipes.
8)      Website– Ask about a website. If your renovator has one (and they should) go and visit it. Look for verifiable testimonials, basement renovation pictures and expert articles.
In the end, selecting the best renovation team choice is yours. With these tips you can make better decisions on the best basement remodeler for your unique needs. Use these valuable tips to make the best choice for your next home renovation.
Leave a Reply