Emergency Basement Flooding Steps
When your basement has been flooded there are three basic steps to take; 1) Safety Inspection 2) Clean Up 3) Repair. The first step must be taken immediately because water in
your basement may cause dangerous living conditions. If you decide to enter your basement; make sure to wear clothing that protects you such as rubber boots, a mask, gloves, eye wear and hip-weighters.
Step 1- Is Your Home Safe to Occupy?
There are other functional utilities in your home that may harm or even cause death if not immediately observed. For example, the electric outlets you have in your basement should not be submerged. If they are, the water accumulation may cause severe electrical shock. Additionally, the walls and ceilings may become weakened by the excessive water. What contents of your basement that have made contact with the water? Toxins found in raw sewage, solvents, cleaners and other contaminants make the water deposit dangerous or even toxic. All that sludge that gathers in your basement over the years is now present in the water. There's no telling what kind of a witch's brew is concocted.
Make careful observations before entering your basement or contact basement professionals. If a shock explosion occurs, call the fire department and vacate your home immediately.
Step 2- The Clean Up
By the time clean up is done there should be no doubt what caused the flooding. If you decide to take this on DIY style it's not a fun job. If you want to have a contractor take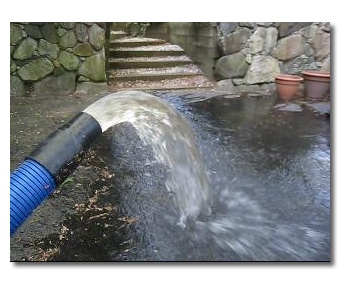 care of the mess for you the piece-of-mind you get may be well worth the investment. Either way here is what you need to do in the unfortunate event of basement flooding.
Of course you'll want to contact you insurance company right away. They will usually send out an adjuster promptly to access the damage. Shoot some images of the damage before clean up in case they are needed in the future for legal reasons. Try to determine what items are completely destroyed (unusable) and what is still usable. Now you can prepare a written list of the items that are destroyed.
Once you are submerged in water do not make contact with any electrical outlets. Leave your fusebox alone to avoid becoming a potential conduit. If the water damage has not caused electrical explosions make an attempt to turn off the electricity.
Once you have deemed your basement safe, open the windows allowing fresh air to circulate. Take a look around for any valuable items that are not yet damaged by the flood, remove them if possible. If there are any area rugs or floor coverings that are still dry and undamaged, remove them too.
Now you can work on removing the unwanted water with wet shop-vacs, submersible pumps, mops and rags. Once you have the majority of the moisture removed use fans and dehumidifiers to reduce moisture in your basement.
If any furniture was also exposed to water, you'll want to clean it with an anti-bacterial soap. For a thorough cleaning take furniture outside. Also take carpets outside where they can dry and be cleaned by professionals.
The walls and floors will need to be cleaned. The best cleaning solution to clean a flooded basement's walls and floors is bleach. Mix bleach/ water formula 10 parts water to 1 part bleach. Area should be dry before applying cleaning solution.
Any items that were completely ruined can be taken to the dump or put in the garbage. If you have a fridge or freezer try to salvage what food is still good. Ask a neighbor if the have any space in their freezer. After your pumps have cleared the water & shop vacuuming is done, a final sweeping after the basement is dry should wrap this project up.
Leave a Reply