DriCore Insulated Basement
Are you looking for the fast and unique way to finish your basement?
We present you DriCore – a revolutionary system for subflooring and wall insulation.
Dricore Subfloor has a polyethylene moisture barrier base with increased density, which allows air to circulate underneath the subflooring systems to keep itdry andup to 3.2˚C /6˚F warmer.This subfloor system is suitable for any finished flooring. Linking process of panels is much easier, as it requires no fastening or gluing, which means, that the basement can be finished in more efficient time manner. The structure of the panel expands and contracts in response to such factors as change of temperature and humidity. The high persistent of the DriCore Subfloor system gives you an opportunity to decorate your house as you want, it comes in a variety of types: laminate, carpet, vinyl or ceramic tile.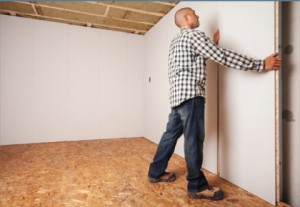 DriCore Subfloor R+ is an upgraded version of Dricore Subfloor. It combines high density Oriented Strand Board (OSB) and Extruded Polystyrene (XPS), which raises the temperature of finished flooring up to 5.6° C / 10.6° F.
Dricore SMARTWALL is an all-inclusive solution for fast, efficient and enduring basement finishing. It combines framing, Graphite Infused EPS insulation, drywall and a vapour barrier all in one.  A Tongue& Groove framing system allows fixation with no need for gluing or screwing. Integrated wiring channels and micro-beveled edges allow fixation without traditional taping and mudding is a real time saver. 2×8 panels are easy to cut to any desirable size. With a new Dricore SMARTWALLsystem,your basement will have a new look in the twinkling of the eye.
Give us a call today at (905) 884-8585 ext 32 to get your free Dricore estimate!
To learn more about DriCore products, visit official website.
Download our presentation (*.ppt – 4.5 Mb) DriCore Insulated Basement