What Causes Basement Flooding
Common Leaky Basement Causes
In the illustration below you will see the way water affects the structure of your home. Once cracks form or window seals fail, water will enter your basement. Over time; land movement (settlement), tree roots, heavy equipment usage, extreme dryness and radical temperature changes will also foster the birth of foundation cracks.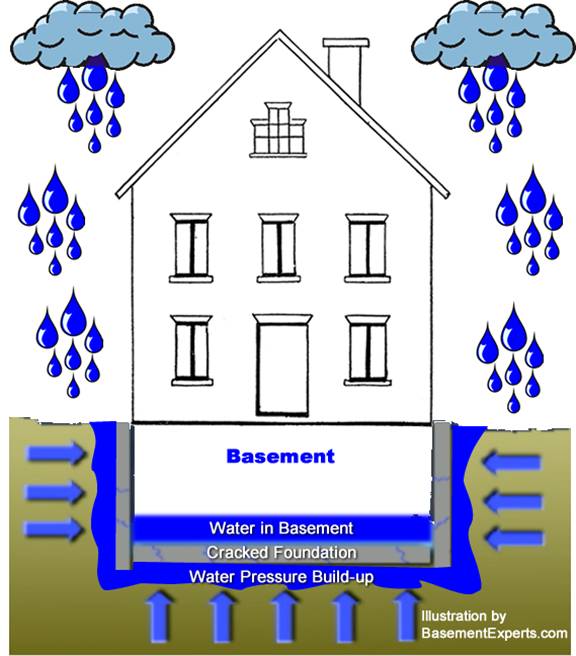 Other basement foundation stressors include storms, flooding and precast stairways (water accumulates behind the steps).
When water accumulates around your home it will reach a pressure point on the walls and the bottom of the basement floor. This is known as hydrostatic pressure. Hydrostatic pressure will find the weakest points of your foundation and penetrate them.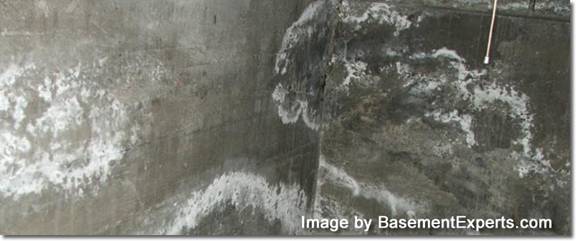 If you look at your leaky basement walls you may observe efflorescence. This is minerals from the soil that water dissolves. As the moisture slowly penetrates your walls it will evaporate on the inside to form efflorescence marks. Now you have clear evidence you have a leaky basement. The correct course of action needed is diverting the water away from your home to reduce or eliminate the external water pressure.
If your basement has been flooded out, you'll want to discover the cause of the flooding.
Home Plumbing Breaks– All copper, galvanized or lead piping in your home may weaken over-time.
City Storm Sewers- Can reach a capacity limit quickly with torrential downpours
City Sanitary Sewers– Just like city storm sewers, sanitation sewage can also begin to overflow when the reach a capacity limit
Septic Tanks– For older homes with septic tanks they can also become a source of basement flooding if not serviced properly
Weeping Tiles– Over time weeping tiles may fail.
Roof Drains– Make sure you service roof drains insuring they are free from blockage
Lot landscaping– your home may have poor grading causing water to flow towards your home instead of away
Spring Thaw- A sudden spring thaw can result in excessive water accumulation under and around your basement foundation
Surface Flooding- Water accumulates on land with grades which create large water pockets causing homes in these areas to have basement floods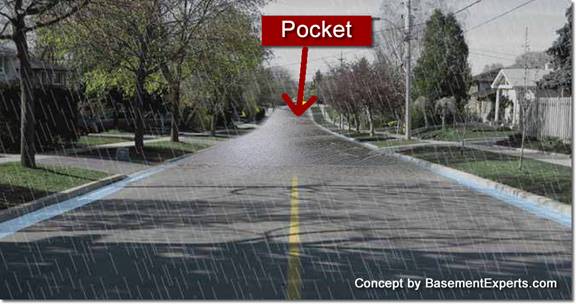 Surface Flooding Example
The best time to address a basement flood is before it happens. There are 'tell-tale' signs such as efflorescence that show you moisture is breaching your basement foundation. If you see signs of a leaky basement contact basement experts to get a professional opinion on the best ways to nip it at the bud before it becomes unmanageable.
Leave a Reply