Basement Remodeling
An extra unit for extra income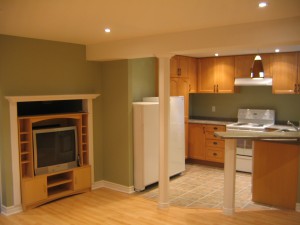 Some people will just sell and move out into a smaller place, sure. But some will make the wiser decision and hire a basement remodeling Toronto company to create two homes where there was one. This will allow you to enjoy great savings by renting the basement out.
Redefining the Space
Many people invest in their basements to increase their quality of living. Among the popular options are: billiard room, kids playroom, home theater or even bar / lounge for some great fun with friends.
The really luxurious project that some families enjoy is to turn the basement into a real SPA, complete with a steam room and Jacuzzi. There is nothing that you will enjoy more after coming back home from the cold street than plunging into a hot tub or sauna.
No matter what use you intend to put your basement to, it will involve some serious basement remodeling. We may need to move walls and doorways, install new electrical sockets and light fixtures, put in water pipes, plumbing and faucets. For this you want to make sure you hire real Basement Experts, no less. We have all the necessary certification, heavy duty equipment and professional know-how to easily and seamlessly execute any project, turning your basement dream into the most vivid realty.
Permit Services
Last but not least, you will need permits for basement remodeling into a separate unit, or other big projects that you have in mind. We will be happy to save you all the hassle of running around and getting all that legal paperwork together. While you will likely be tackling this problem for the first time, we have gotten hundreds of permits and licenses for various projects over the years. We know exactly what you need and where to get it. We will take care of everything.
Call Basement Experts and turn the basement into the favorite part of your house!