Basement Lowering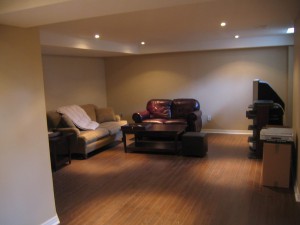 Do you want to gain an entire extra floor for your home? You came to the right place! A basement has the potential of serving as an entire storey, but sometimes the ceiling is just too low for it to be convenient to use as such.
Meet the Basement Experts
As mentioned in other sections of our site, the basement can serve as a Home Theater, SPA, Lounge or even an Entirely Separate Unit for rent which will generate you a very real residual income and increase your home's overall value. If you have a low basement it may seem impossible, but in reality it is not the case. We've been doing this for quite a while, and can present an impeccable track record and a list of completed basement lowering jobs that will impress you. Of course it goes without saying that we have the best possible insurance coverage and all the licensing and know-how that is necessary for the job. You can trust us your basement underpinning project!
Size equals Strength
One of the common questions people ask is whether basement lowering in Toronto not done at the expense of structural integrity. The good news is, it's actually the other way around. Old homes foundations will greatly benefit from this job, as it will reinforce them in the process. It will also allow you, the homeowner, to use this opportunity to replace old plumbing and discover rotting beams and other hidden damages, saving yourself LOTS of trouble in the long run.
The Process
First, you need to get a quote. We will be able to provide it, for free, after assessing the property. Then the Architect will draw out a plan, gather all necessary documents and send them for approval. Once the building permit is obtained, the physical phase can begin. It is known as Basement Underpinning since on this stage the supports are replaced by temporary jacks, or pins. After the floor is dug deep enough, the temporary pins are replaced with permanent supports. Then the floor is sealed with gravel and concrete and the Basement Finishing process begins.
Naturally, this is just an overview of the process. Call Basement Experts now for more details and we will get your basement project on the way!