Basement Finishing in GTA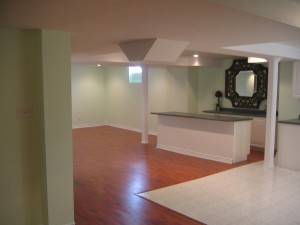 Have the remodeling layout planned and need to decide on the basement finishing in Toronto, or just refinish your old basement to refresh its interior? You came to the right place! Finishing will define how your basement looks and feels. It is more than just interior decoration. The difference between one finish and another can be as drastic as between a facelift and some hastily applied makeup. And it is not a matter of costs. It is a fine balance of good taste and quality of work.
Safety First
When it comes to safety, we don't compromise. We get ESA Electrical Safety permits for all the jobs that we take on and work to the highest standard. We also keep in mind the extra caution that needs to be exercised in a basement due to its location below street level. When humidity comes into play, electricity shouldn't be taken lightly.
Walls and Ceilings
Choosing, positioning and installing light fixtures is a delicate work that will affect the way your basement feels. It needs to be well adjusted to the designated use of the space. The finish color of the walls comes into play as well and will have a huge impact on the interior.
For instance, it is recommended for home theaters or wine cellars to be dimly lit with wood paneled walls, while a playroom is better off well lit with brightly painted drywall. As to lights, wall fixtures are available as well as chandeliers, pot lights and more.
Floors
Floors are the basement finishing element that you absolutely have to get right. Nothing feels better than a nice fuzzy carpet in the home theater room. And a shiny hardwood floor is perfect for a billiard room or lounge. We will help you make the right choice for you to enjoy every time you walk into your basement.
Basement Experts have a wide variety of colors, finishes and textures for you to choose from and will advise you on materials, designs and finishes for your basement finishing project. We will make sure that you are happy with the result and get a safe, well made, long lasting design from top to bottom.
In short – tell us what you want and let the Basement Finishing Experts do the rest. Call us now for a free estimate and don't forget to inquire about discounts and specials!